South Columbia Baptist Church
Serving In Jamaica
July 15, 2017
Community:
Stewart Town


Partner:

Webb Memorial Baptist Church


Staff:

Cathy Kirk, Javanie Byfield, Andre (Andy) Eldemire, Lorna Clarke
We are Finally Here
by Cathy Kirk | July 15, 2017 11:04 PM
After months of planning our team has arrived safe and sound. They made it through customs and immigrations in 2 hours. Lol. But everything went very well. They were all smiles when they came out where they were greeted by their Jamaican Pelicans.
We quickly headed down to grab a photo and then hopped in the bus for our 1 hour 15 minute drive to the country. They were all amazed at the beautiful scenery.
We got settled In at camp and then went for a delicious dinner prepared for us by the ladies of the church.
We had a great evening of worship and discussion and are now tucked away in bed for the night.
Prayers would be appreciated this week. We are praying God moves in mighty ways and can't wait to see where he leads us.
---
Good morning from sunny Jamaica
by Cathy Kirk | July 16, 2017 12:13 PM
Good morning everyone! We are well rested after cool weather last night which made sleeping wonderful!
We are ready for worship today at Webb Memorial Baptist Church. We can't wait to experience the Jamaican service today and know that God is going to show up in mighty ways.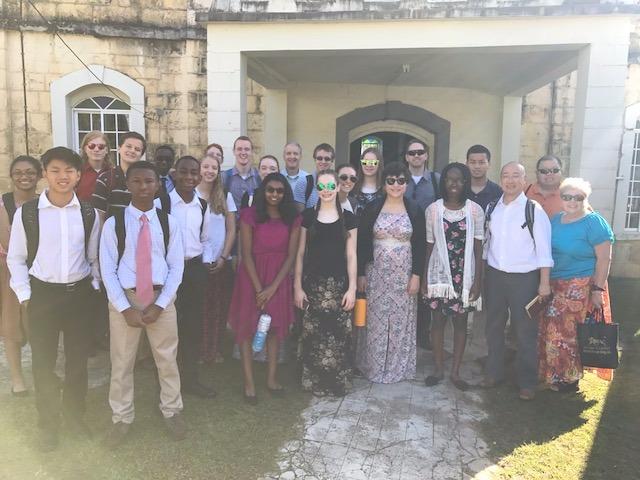 ---
Sweaty sweaty men!!
by Cathy Kirk | July 16, 2017 12:16 PM
Ron wanted me to entitle this one "The Sweaty Ones.".
It is extremely hot here and Jamaica, everyone is trying to get acclimated to the weather. These men were already pouring with sweat at 7:30am.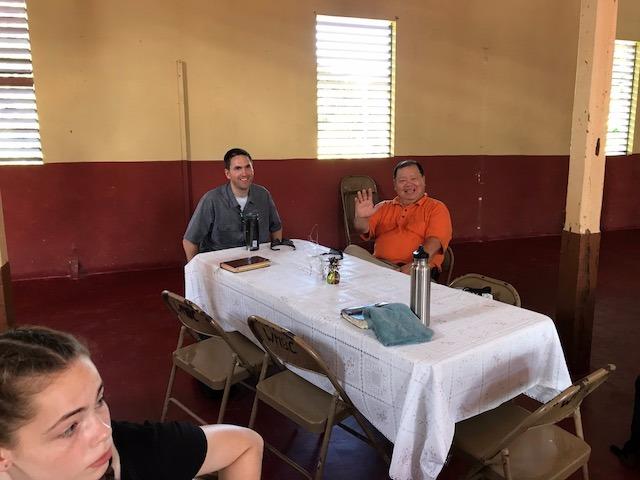 ---
Look what the Lord hath Done!!
by Javanie Byfield | July 16, 2017 4:32 PM
Jennifer, Mary and Phillip shared what God has been doing in their lives and why they serve him. It was a great encouragement for those sitting in the congregation to trust God in all things.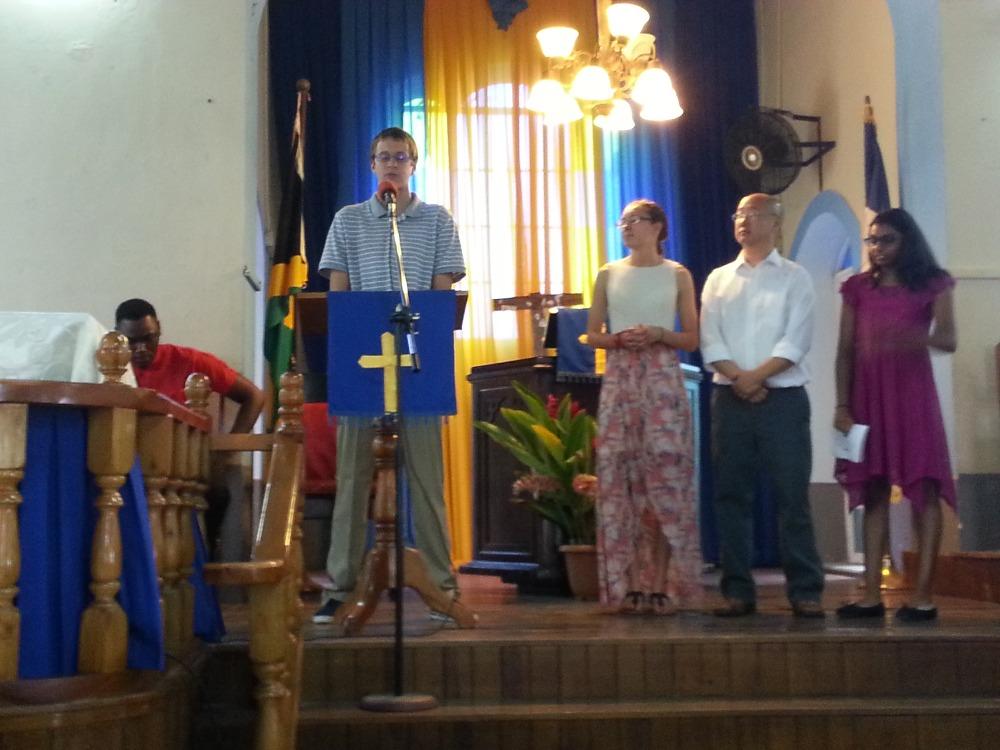 ---
I am my Brother's keeper
by Javanie Byfield | July 16, 2017 4:36 PM
James made David a challenge that he could complete the prayer walk with him on his back, and yes he did!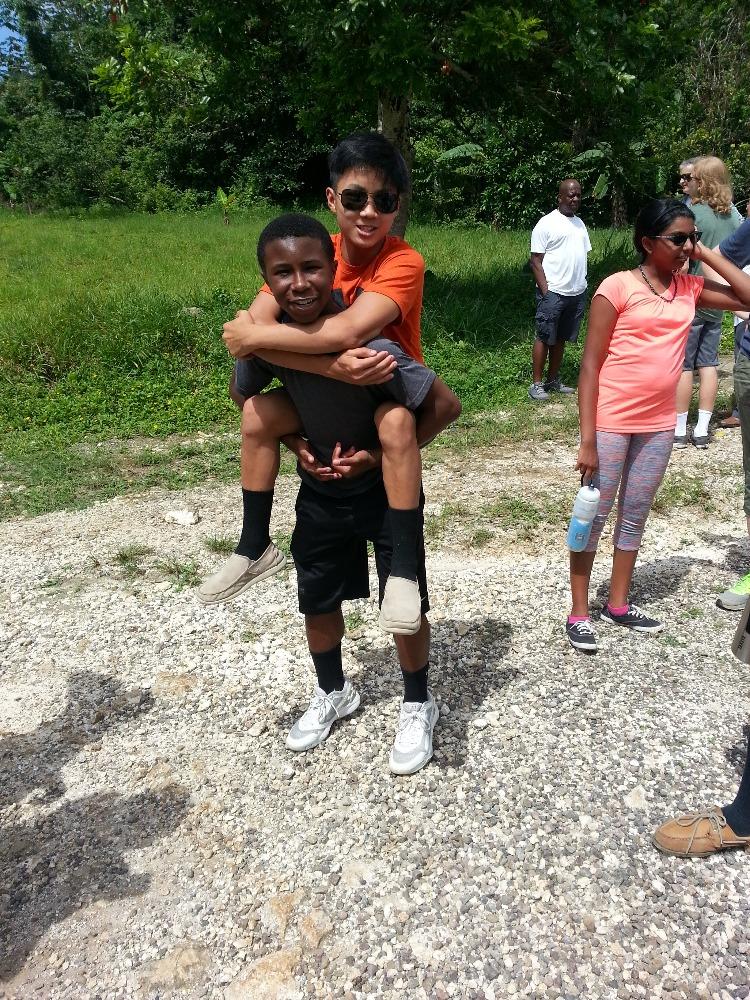 ---
What a Blessing
by Cathy Kirk | July 17, 2017 10:12 PM
Today we had a very touching moment with our team. One of the members of Webb Memorial passed away before we arrived. In Jamaica the community comes together to hold a "grave digging" for the people in their community. As we were out walking yesterday afternoon in the community we met the family of the lady who had passed away and we were invited to the "grave digging." We felt so honored that they asked us to come, this is a time of celebrating the life of the person they are digging the grave for.
The family was so excited to see us when we arrived. They offered to allow some of the team to help dig her grave. We all left feeling so grateful for the special time that we were able to spend with their family. It was an amazing experience and not one we will ever forget.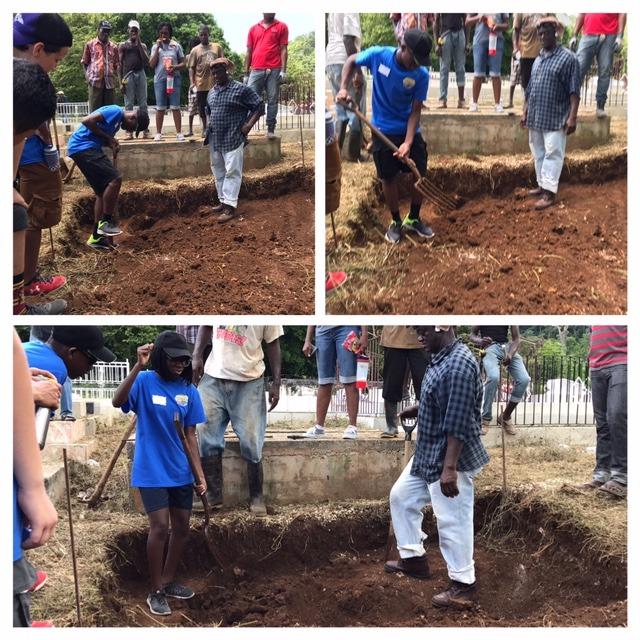 ---
Be Bold for Christ.
by Javanie Byfield | July 18, 2017 10:24 AM
Evelyn and Jeovahny and are decorating there be bold be beautiful poster they are loving it.
---
Lesson and Games
by Javanie Byfield | July 18, 2017 10:29 AM
VBS is in full swing with Pastor Jim conducting lesson with the babies teaching them about God's creation while Ben and his sports team are doing a bunch of games with the teens.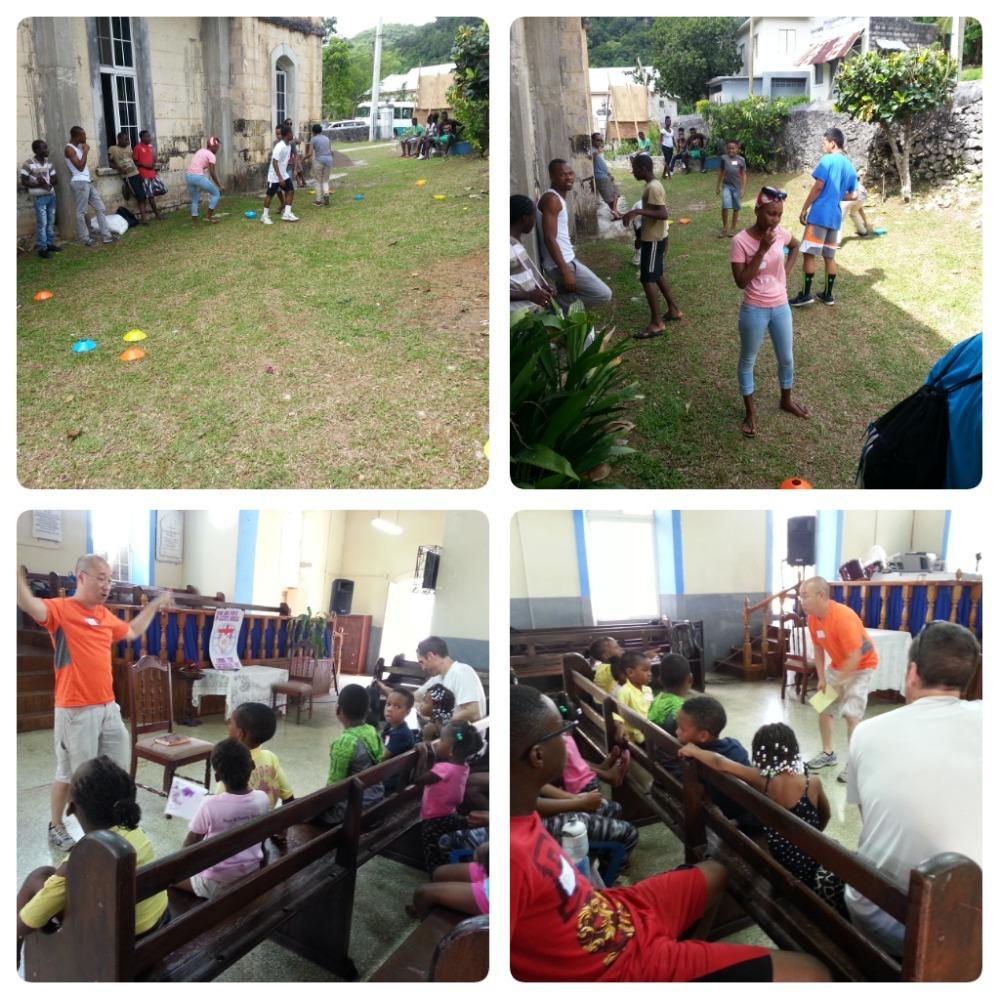 ---
What a Wonderful Week
by Cathy Kirk | July 19, 2017 11:27 AM
This week has been nothing short of amazing. We have been busy from sun up to sun down. God is moving in mighty ways through this awesome team from Maryland.
Sunday was a packed day as we were up early so that we could have breakfast at 7:30 and then head to church from 9:00-12:30. The team absolutely loved the service. The sermon was awesome and they all gleaned a lot from Pastor Henry. Their favorite part was the upbeat and vibrant worship that they had. It was very powerful for the team to see worship in such an uninhibited way.
We went to the Falmouth Infirmary for a visit with the residents there and we spent about an hour with them. The team was stretched as they stepped way out of their comfort zones by visiting with the residents there. It was amazing to watch God move through them as they loved hard on each and everyone they came in contact with. There was scripture read, songs sung, hugs given and smiles everywhere. It was such a blessing to watch the team experience something so awesome as they shared God's love with everyone while we were there.
We also went on a walk through the community where we met a lady that was 109 years old. She was the sweetest and was so excited to see a huge group of "white" people. She said she had never seen so many white people together at one time. :) She had problems with her eye sight and said she did not have glasses. Ron jumped in without hesitation and offered her his reading glasses. God truly showed up in this act of love, her face was filled with such excitement as she put them on and could see. Such a small act of kindness on Ron's part changed her life forever. God is good.
During the walk the team met the family of a lady from the church that had passed away. They invited us to be a part of the grave digging. In Jamaica the community comes together for this. They all chip in and work together to dig the grave for the loved ones in their community. We went to support the family and boy were they excited to see us. They even invited the team to help dig the grave. What an honor it was be invited to such a special time for the lady they loved so much.
We have had 3 awesome days of VBS this week. The children have loved the songs that they have been taught and we have caught many of them walking around the community singing them after VBS is over. The children have gleaned a lot from the lessons this week that Brian and Jim have taught. Chrisann a 7 year old girl that has been here all week shared with some of us that she has been inspired since "South Columbia" has been here. I asked her how and she explained through the lessons that Brian had taught that day, she told me the entire lesson and thanked us for being here.
We have painted a huge room in the education center and what a difference it has made in the feel of the building. It is gorgeous, Pastor was pulled away to a meeting last night and did not see the finished product until after we had left last night. This morning he couldn't speak enough as to how beautiful the room is. He absolutely loved it and so did the church members. There has also been painting done on the outside of the church as well as a "ton" of scraping off of old paint.
The church sign is close to being completed, lots of concrete has been mixed and poured to form a sign for the church that lost their original sign years ago during a hurricane. Everyone is so excited to see this sign being erected for the church. Ron has worked hard with the foreman each day to get as much of it done as possible. We worked in the dark last night mixing and pouring concrete because they were committed to getting more of it done before we headed back to the school last night.
These are just some of the many highlights of the week. God has been on the move all week. Working through the entire team. There is so much more to tell. We will continue to post pictures and stories of our day.
Subscribe To Updates
Comments
Sharon Mann
July 21, 2017 9:43 AM
Praying for traveling mercies back to Maryland, memories to last a lifetime and changed lives going forward!
Pam Mann
July 20, 2017 10:50 AM
Thank you so much for documenting this week for us parents and prayer partners at home. I second what Eve said that I have seen my prayers answered in various way in what has transpired this week. We serve an awesome God!
Eve Wooldridge
July 19, 2017 2:00 PM
My heart is full as I read this, Cathy. The spirit of the week that you convey reflects just how Russell and I have been praying. Thank you for this post! - Eve W