Soccer Time
by Emma | July 2, 2013 11:56 AM
After we got done passing buckets, we played with the kids in the community, and of course, a game of soccer had to happen!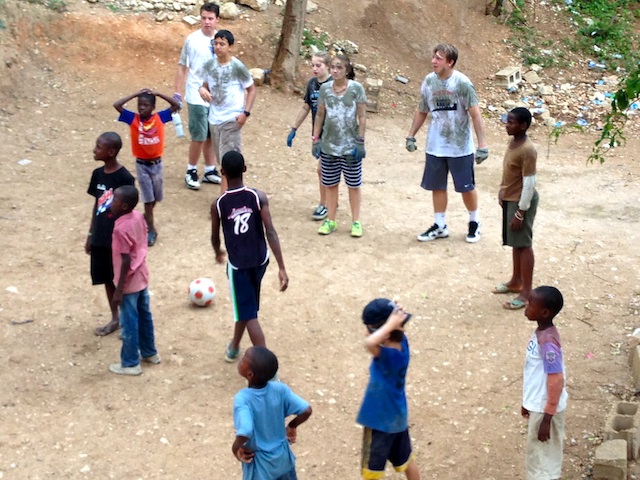 Subscribe To Updates
Comments
Nicole Hadley
July 3, 2013 9:54 AM
Great work! Love seeing you all and hearing about the daily adventures and mission. Keep up the good work. We are so proud of you!
Joan and Jack Mather
July 2, 2013 11:29 PM
Wow! Jack - we are really amazed at the amount of work you are all doing. Great Job! Passing buckets of cement has now changed to passing buckets of dirt. We enjoy seeing all the photos and especially the ones we can spot you in, Jack! Every body has a smile and obvious good spirits while "pitching in" and it looks like there is good fun going on as you truly help out. We look forward to the daily news and check each day for the next adventure. Love, from your Los Altos Grandparents.
Nicole Hadley
July 1, 2013 11:25 AM
Thanks so much, love the update and photos! So happy to hear all is well.
Bonnie Hann
June 30, 2013 9:36 PM
-June 30- Now THAT"S an update! Thanks for some great insight, detail, and pictures! LOVE the group picture - everyone seems to be smiling - whew! xo Bonnie Hann
Bonnie Hann
June 30, 2013 7:13 AM
Pleeeaaassee add more detail!! Like what's a "traditional" Haitian dinner and what is your new "home" like?? We are dyin to know, ya know! That way you won't be so pestered when you come home, so like, spill the beans! xo Bonnie Hann
Nicole Hadley
June 30, 2013 5:59 AM
Yippee! Wishing you a wonderful first day full of new experiences and service. Praying for you all- Nicole